Brittany's Beat: New Season, Same Protest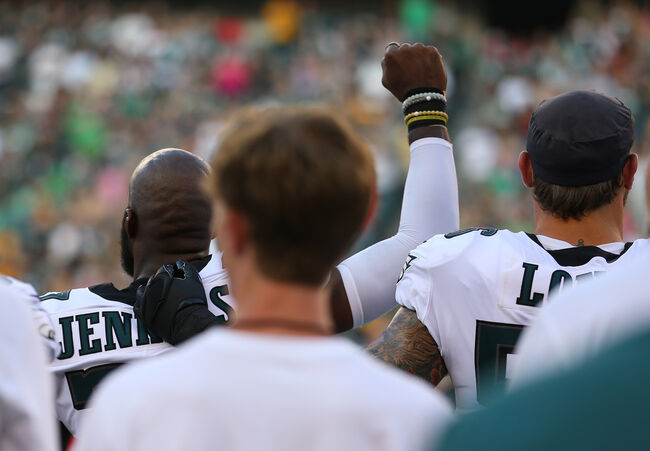 Will you continue to boycott the NFL? I will. Several NFL players took a knee, raised their fists or stayed off the field as the national anthem played before preseason games.
This problem will never be fixed if the NFL doesn't take a strong stance on the protesting players.
In May, the NFL announced a new policy that all players who are on the field when the national anthem is played must stand or else stay in the locker room. But in July the league and the NFL Players Association said in a statement that they'd agree to stop the enforcement of the new national anthem policy while they work on a resolution.
It may be a new season, but it's the same problem. Players like Philadelphia Eagles safety Malcolm Jenkins, Miami Dolphins wide receivers Kenny Stills and Albert Wilson, and defensive end Robert Quinn, Jacksonville Jaguars Telvin Smith, Jalen Ramsey, Leonard Fournette and T.J. Yeldon, and Seattle Seahawks left tackle Duane Brown and defensive linemen Quinton Jefferson and Branden Jackson either stayed in the locker room, remained in the tunnel, kneeled, or raised their fists in protest of Old Glory.
The ringleader in all of this, former quarterback Colin Kaepernick, sent out a tweet applauding this season's protests stating, "My brother, Kenny Stills, continued his protest of systemic oppression tonight by taking a knee. Albert Wilson joined him in protest. Stay strong brothers!"
President Trump, along with many NFL fans have had enough—including myself. Trump tweeted, "The NFL players are at it again - taking a knee when they should be standing proudly for the national anthem."
"Numerous players, from different teams, wanted to show their 'outrage' at something that most of them are unable to define," he added.
"They make a fortune doing what they love...........Be happy, be cool!" Trump wrote. "A football game, that fans are paying soooo much money to watch and enjoy, is no place to protest. Most of that money goes to the players anyway."
Trump also urged the players to respect our flag and anthem. "Find another way to protest. Stand proudly for your national anthem or be suspended without pay!" he said.
I agree. These players should face consequences. If you refuse to stand and salute the flag, then you shouldn't be playing football. These players should be fired or suspended. There have been so many people who have fought and died for the flag and for our freedoms, including the very freedom where NFL players are able to play a sport and make millions of dollars. Trump has openly said he'd talk and meet with the players on their grievances. If Kim Kardashian West can sit down with the president and convince him to grant clemency to 63-year-old Alice Marie Johnson, then he will sit down with any NFL player.
A team that should be recognized is the Dallas Cowboys. Its patriotic owner Jerry Jones has said many times that he doesn't want his team kneeling for the anthem. He told reporters last month, "Our policy is that you stand at the anthem, toe on the line."
Jones is right. We are tired of athletes using sports as a political forum. Many fans find their kneeling in protest disrespectful. We've lost the reason why these players are even protesting. Kaepernick claimed his protests were about police brutality.
A South Florida police union is now urging its members and the local law enforcement community to boycott the Miami Dolphins because of protests during a pre-season game.
The Broward County Police Benevolent Association (BCPBA) called on its union members, as well as all police officers in nearby cities and counties, to boycott any ticket sales or merchandise of the Dolphins and the NFL.
Moreover, the police are willing to have a dialogue with these players. In June, New England Patriots cornerback Devin McCourty participated in a ride-along with the Boston Police Department. According to the Boston Police Department's Twitter page, the ride-along was for McCourty to "better understand and appreciate just how hard the men and women of #BPD work to keep our city safe."
McCourty took the lead by working with his local community and police department. Players should learn from McCourty's actions.
It's time for the national anthem protests to end and for these players to grow up and have a discussion. Otherwise, fans like me will continue to boycott the NFL.
-Brittany Jennings is the Executive Producer of "The Kuhner Report" on WRKO AM-680. Follow her on Twitter @Brittany_J10