17 Year Old Red Gerard Takes The Gold!
Let me start with saying that I love snowboarding! & so therefore every 4 years I love watching the world's finest compete on the world stage for the gold. Soaring through the air like that surrounded by white powdery snow, it's just majestic to watch! I've convinced myself that in another life I could have been a snowboarder...it's just my vibe. But instead I was born in the city not the mountains of Colorado...
Anyway, back to reality, and that reality is that 17 year old 5'5, 116 pound Redmond Gerard from Silverthorne, Colorado took the Gold in the Men's Slopestyle Snowboarding final. Gerard was actually two runs down and in 10th place when he had his 3rd and final run down the slope. This was the run Red had to make something happen and boy did he. It was almost adorable when he finished his astounding run waiting anxiously as he hugged a coach of his when all of a sudden you hear the outcries from the crowd (Red's cheering squad) as you see Red just almost stunned and not knowing how to respond that he took the lead and went from 10th to 1st place after this last run of his. His winning score that stuck and landed him the Gold was 87.16.
Red held off Silver and Bronze medalists Canadians, Max Parrot and Mark McMorris. Parrot himself came very close to stealing the gold from Gerard, scoring an 86 for his last run, which ultimately landed him the silver medal. Then McMorris finished with 85.20 so very close for all three of these men but of course as Americans, we're thrilled 17 year old Red took home the gold!!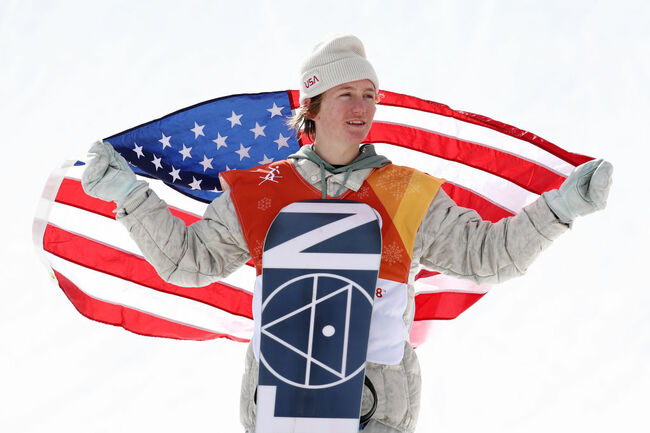 Conditions on the slope were not for the faint of heart. Temperatures at the Phoenix Snow Park in PyeongChang, South Korea were reported at -13 Celsius along with a strong cross wind.
Red is the second youngest Olympian to win a gold medal, behind 16 yr old Bobby Fisk in 1928 who won Gold for the Bobsled. Congratulations are in order, so Congratulations Red! Go America!
Check out Red Gerard's final gold winning run: